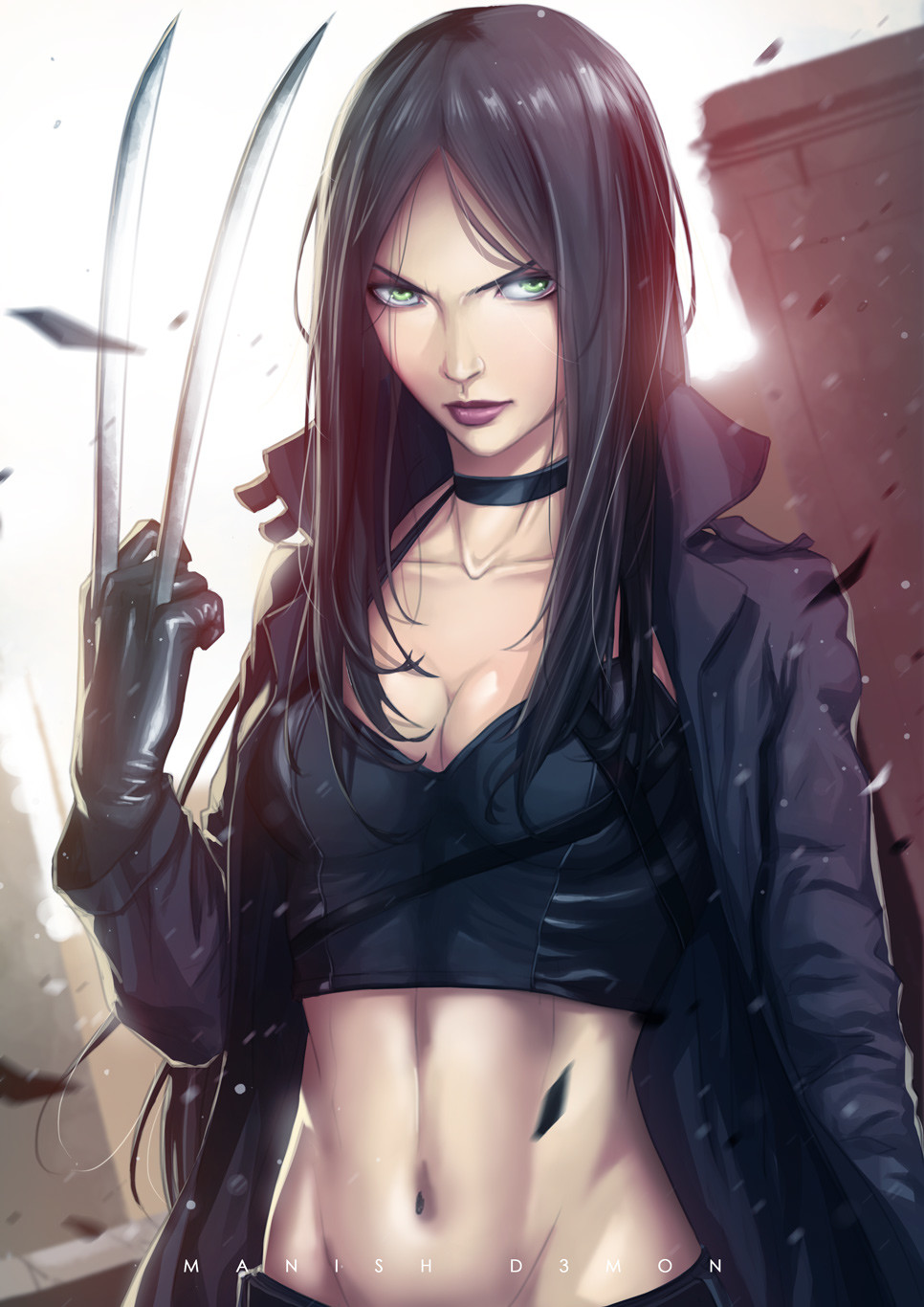 Name: Scarlet Rayne Oren
Aliasis: Razor, Scar, Edge, Saber
Date of Birth: 02-22-1991
Age: 27
Height: 5'8"
Eye Color: Green
Hair: Black
Base of Operations: Mobile
Abilities Origin: is a Registered Mutant
Recorded Background:

Scarlet's powers were semi-active sence birth, first time they took effect was during her mother's labor. As she came out of the womb the baby's mutation complicated labor. The powers shut down after but it failed to hide the facts. The next few years of Scarlet's life were Complicated . Her father blamed her for his wifes death while she also acused herself. They tried not to hold any animosity to self or each other still it led to her becoming a loner, locking herself in her room or straying away from the general public. Scarlet was quick on her feet learning subjects in class at a high rate of speed. Placed in a school designed for bright young minds she liked school more than home, When students learned of the event of her birth however they began to belittle her. Troubles at home and teased at school she began to distance herself even more.
As time went on Scarlet got sick of being belittled by others. She went to punch the young child in the face but her ability took effect. He lived but to this day bares the scars. In fear of her abilities she fled home and in the mean time cop's were notified. The door slamed shut as Scarlet entered sirens heard in the distance. Her dad may have had isues with Scarlet but that's not to say he didn't love her. Clothing torn and her arm splattered with blood the child backed up however afraid she'd make things worse. He still made the move to hug her however and this resulted in his death. Oficers arived on scene to find the man dead and Scarlet missing.
The next ten years she was on the run. Stealing from criminals was her main sorce of income, though a few banks were also robebed. The money was not only spent on food but rather various books as well. Teaching herself a variety of handy skills and furthering her own education to pass the time. Over time she picked up on some fighting skills and stealth in addition to trying to further her education. It was during this time she also learned of her manipulation of her own marrow. An ability that helped keep her safe during the run ins with criminals. It also asisted in her gereal survival allowing her to pick locks rewire cars etc.
At age of fifteen she had the same knowledge any highschool graduate would have and was fully capable of taking care of herself. Wanted for various acounts of crimes most related to violence and theft a warrant was issued for the arrest of Oren. A small unit of metas was dispatched to retrieve her. From there she was issued into black ops. Her training and missions having remained top secret so far. Eventually however a mission went south her squad practically her family had perished in a fight, and lead her towards certain ideals of hers being solidified. She is now a wanted criminal of the state.
Personality and Abilities
Personality: Self reliant and outcasted for a majority of her life Scarlet has come to be the lone wolf type of character. Most missions she had done had been solo operations or her choosing to handle her end alone. Quick wited Oren has proven to be both resourcful and a nuesance to most other operatives. Finaly there is her perspective on things. The status of who's good and who's evil isn't to relevant in her world. Rather she finds that the world is in a state of disarray it isn't just or corrupt but somewhere in the middle. Things seem to reach a point of stagnation, as a living weapon she feels it is on her to direct the world into a state of something more. Change is demanded.
Powers:
Marrow Manipulation:
the ability to control her own bone structure and growth. This allows her to generate spikes and blades at will. These are most commonly done in the shape of short swords, claws, or a blade from her feet. After fine tuning her abilities she has shown even able to briefly alter the course of her own thrown bones or mimic a blow from an opponent.
Healing Factor:
while not as strong as the healing powers of other meta humans in society Razor has enough ability to regenerate skin and muscle tissue from her own abililities and most nonvital wounds. This also makes her immune to most natural toxins.
Razor Skin:
her skin becomes sharp on a molecular level. This power has proven to work even on her hair making her a living blade. The skin even functions as a mild shock/damage absorber bladed weapons have proven slightly resisted and bullets of light caliber finding resistance.
Augmented Skeleton
through nanotechnology machines were designed to take in energy highly conductive alloys using what they would draw in to reproduce. Creating essentially natural titanium carbide. Having a Mohs hardness of 9.5 this mixed with the edge of her blades leads to the capacity to carve apart with relative ease almost anything shy of diamonds easily. To carve through diamond would take more time and force behind her claws. This synthetic metal is also able to endure up to 4820 degrees Celsius (5720 F, 3430 K) before melting. Culminating in a body largely resilient to the brutal combat she often finds herself in.