Plot ideas: (If you have any plot ideas don't be afraid to make a suggestion, but these are my ideas. We'll vote on which one we want to do once we have about 3 or more people.)
plot 1:
We have all boarded a ship headed going from Dawn ispand to Lorcada. Some of use have boarded in order to join the 4th annual adventurers exam while others way have had other reasons for boarding. Regardless the ship is pact with 16 passengers of varying genders strength appearance and origins.
Plot 2:
You are up and coming mercenaries in *blank*. While in a tavern a shady figure approaches you and offers you a multiple stage job and says he can pay you 200 coin for each stage you complete. He says he can't tell you too much other then the job has to do with a conspiracy going on with the imperial delivery and trading center and the guild of 5(a guild of neutral characters who are rarely seen in public but everyone knows of). He places a sack with 200 coins in it as you accept and tells you to meet him behind the imperial delivery and trade center.
Plot 3:
You have been all been cursed by some force unknown to you and now you are haunted by dreams that tell you to travel North to *blank*.
WORLD:
The planet we inhabit is called Feorai and in this world there are varying degrees of magical influence, magical beast, temples, dungeons and mysteries beyond belief. There aren't any other species in Feorai other then humans but humans in this world can take on many different sizes, shapes and forms.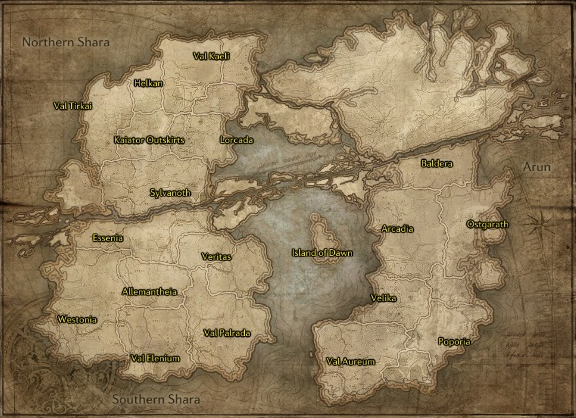 Magic:
Amon is the general name for the magic aura that naturally Poor's from a person, though different cultures give it different names. Amon naturally leaks from a person's pores from the day they are born and with the right skills you can even see it, though amon is completely invisible to most people. A person's amon basically has 4 different abilities that can be used for a variety of different things and of these 4 a person will usually be better at 1 then the other. Which of the 4 depends on the person and rarely ever changes from the day they are born.
Magic types and preferences:
The 4 types of magic are transformation, evocation, divination and manipulation and of these 4 everyone has at least 1 type that works best for them known as there amon preference. To show how a person's Amon preference works it would be easiest to create a diagram with transformation at the top, manipulation on the left, divination at the bottom and evocation to the right. If the person in question had a transformation amon preference they could use 100% control when using purely transformation spells, jutsu, etc, but would only have 70% percent control over manipulation and evocation spells and 20% control over divination spells making them the hardest to learn or master for a person with a transformation preference. Many people believe that the only way to tell a person's Amon preference is through personality analysis, transformers are creative and serious, manipulators are argumentative, diviners are curious and sometimes absent-minded and evokers are simple and determined, but this method can sometimes be wrong and there are better ways to check a person like using divination spells to see their aura.
Transformation:
Transformation magic is the ability to change the world around you by bending it or changing something into something new of equal value. Transformation Amon is one of the hardest types to use as most of the high level spells require a person to understand what they are transforming on a molecular level and is sometimes also called alchemy or equivalent exchange, but to the creative mind of a transformer the basics of transformation magic is usually enough. The basic transformation spells are usually used to change the shape or move a material the caster is used to handling which is why most transformers practice changing metal first into swords or other weapons and tools.
Manipulation:
Manipulation amon is pretty self explanatory, the ability to control the objects and even people around you. With manipulation amon whether or not a manipulator can control the object or person depends on how much more amon the person has over there target, though most manipulators realize controlling things that can fight back won't work on everyone and eventually either use puppets or some other form of weaponry that keeps them far from the fight where they are most comfortable.
Divination:
Divination amon gives the ability to see and manipulate amon. Divination spells usually revolve around 3 basic spells: Ko; which gives the caster the ability to see amon when not obscured, Ren; the ability to hold in your own aura instead of letting it leak out and Natsu, the ability separate your among from your body while still maintaining control. These 3 basic spells are easy to learn, requiring mainly meditation to learn, but are only truly master when used in conjunction with each other and even more so when used in conjunction with the other Amon types.
Evocation:
Evocation magic is the ability to heighten or decrease the age, strength, temperature or speed of an object or person so long as the caster is able to supply his\her amon to it. More commonly then changing the nature of an object evokers will also use divination magic in conjunction with evocation magic to fire out there own aura either heated, cooled or strengthened like a blast of energy.
Character sheet (CS):
Name:
Gender:
Age:
SO:
Appearance:
Personality:
Like(s):(optional)
Fear(s):(optional)
Goal(s):(optional)
Backpack:(if you have a bag what's in it.)
Weapon(s):
Wearing:(armor/clothes)
Animal companion: (if any)
Skills: (This includes fighting techniques, knowing multiple languages, being able to spot traps, lock picking, knowledge of magical beast, nature, geography, stuff like that. If it's knowledge related I'll tell you if theirs something you should know about or you can just ask if you should know more.)
Amon preference: (transformation, manipulation, divination or evocation.)
Spells: (2 max at beginning.)
Extra: (Whatever you want. You could just write "everyone here is gay" if you want.)