R E D E M P T I O N
Backwater
"Draw!"
A single shot rang out through the small settlement of Anchorhead. Those settlers that were not gathered in the middle of the town might have confused it with the clock tower's hour chime. But for those who had watched the two men walk their paces and turn, it was easy to see who the winner had been. Between the two dualists, an older man with a large bag marked by a cross approached the man who laid in the dirt and pressed his fingers to his neck. "Yep, he's dead. Blackwell is the winner," he announced, and a slow clap began to resonate through the streets.
Morgan took a deep breath and spun the cylinder of his revolver, emptying the weapon of it's single spent cartridge. In a quick motion, he flipped the weapon around his finger and pushed it back into the holster strapped to his thigh. It was time to get paid. He'd cash in the outlaw, fuel up his ship, and find himself another bounty on the next tiny fuel depot rock that would come up on his radar. He made his way to the Marshal's Station, and quickly entered stepped into Marshal Hawkins' office.
"Howdy, Sheriff. I'm here to cash in Lenshire."
"It's Marshal,
cowboy
," Hawkins looked up from the monitor on his desk. "That sure was one way to do it. You call him out in the street like some old gunslinger and shoot when the clock struck twelve? Most trigger men around here would just gun him down when his back was turned. I'd heard you were old-fashioned, but I thought it was more of a gimmick to be honest." The Marshal said, printing his name at the bottom of the papers for Morgan's bounty. "There you go, fifty thousand carbons, as promised." He handed over the paper, newly sealed with the Hub Authority crest. The money was nothing to marvel at, as inflated as the common currency of Aurelius had become. It was all about being on the right side of the law in these times. These
tense
times. "Still, I don't get the whole moral high ground. These guys are criminals, you know.
"Thank you kindly, sir," Morgan took the paper from the Marshal's hand and slipped it into his coat, setting it next to the knife that laid against his chest. "But they are still people, they still deserve respect," he added, tipping his hat to the lawman before he turned to the doorway behind him.
"So that's it then? You'll just ride off into the sunset? You do know what year this is, right?" The Marshal said, kicking a boot unto his desk as the cowboy stepped through the doors.
"That sounds about right, Sheriff."
---
The Vanguard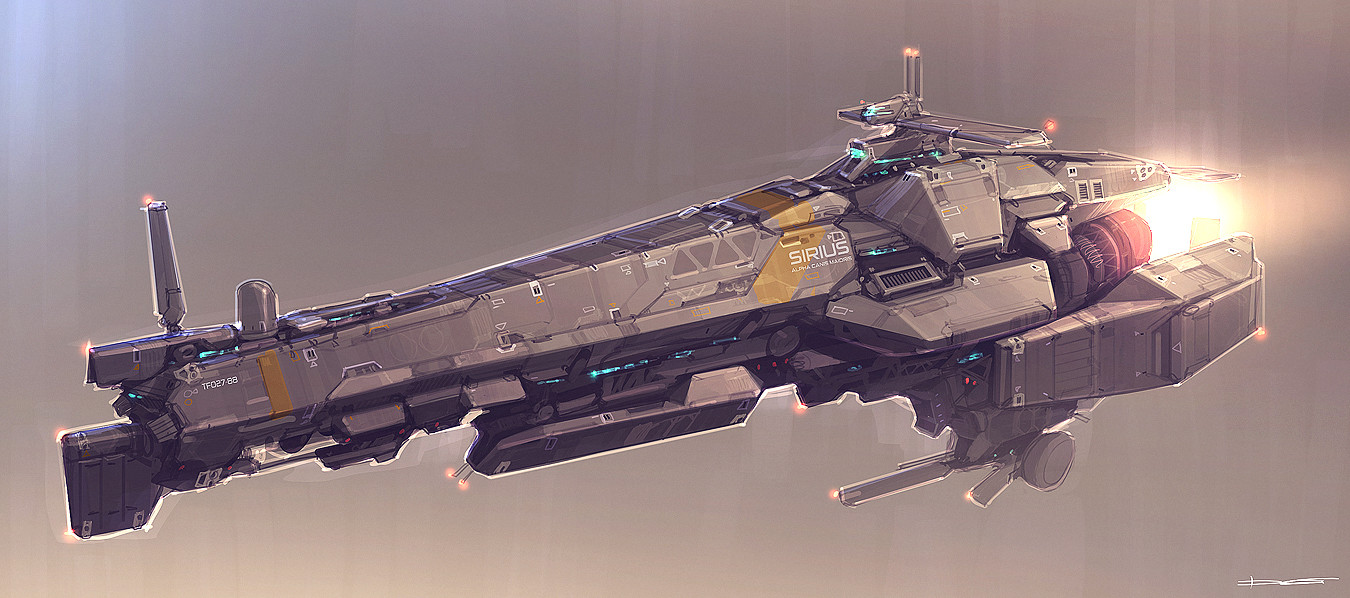 "We've combed the Frontier for you, Blackwell, and just as suspected, you're in the last place we'd think to look."
The
woman
leaned forwards on her desk, pivoting on her elbows. She smiled, but not a welcoming 'I appreciate you taking the time to speak with me' smile. When she smiled, Morgan understood that she had him in her sights, and that their meeting was anything but chance. "Apologizes, ma'am. I'm not sure I understand where I am," Morgan spoke, breaking the silence he had held since his ship had been pulled in, seized, and he was sent to speak with 'Her'. "Can you tell me who you are, at the very least?"
The woman leaned back in her chair, and looked over Morgan before she spoke, "I am Commander Andromeda Chernova, and you are on
my
ship, Mr. Blackwell." She rose from her chair, and preceded to open the top drawer of her desk. "I am the leader of all military operations for the Hub... President McConnelly might be the face of the Alliance, but he wouldn't even have made it to elections if my military wasn't as powerful as it is," Chernova retrieved a folder, and pushed the drawer closed behind her hand. "Now, we've been keeping tabs on certain individuals in Aurelius, some like you... and others..." Chernova passed slid the folder across her desk, letting photographs spill out across her mahogany surface. The photos showed armed men moving large containers of materials, weapons, and finally a
bomb
. Morgan was by no means an explosives expert, but he could tell that whatever that device was, it was a threat.
"Who are these men?" Morgan asked, pushing the photographs back towards the Commander. "...and do you need them dead?"
"Terrorists. Anarchists. Murderers." Chernova gathered her photos and added, "I need them to be removed from the equation entirely. They have no place in Aurelius, they only wish to destroy what we have worked so hard to build." The Commander pulled another file from her desk, bound in a red folder.
"When do you need me to start?" Morgan followed.
"Cool your jets, cowboy." Chernova chuckled and passed him the red folder, before she moved over to a small table that held a decanter of liquor. "You're just my Ace, Blackwell. I've got an entire deck in that folder, check it out." She poured two glasses and continued to speak, "some were harder to track down than others... take the Silwin for example, we found her in a warzone, patching up refugees. One hell of a medic, and those empathic abilities? Her codename is the Queen of Hearts, how cool is that?" Chernova laughed, and took a drink from her glass. "Do you drink bourbon, cowboy?"
Morgan took his eyes off the files and looked over at the Commander, now offering him a glass of bourbon. His mouth began to water, the last alcohol he had drank was some half-watered whiskey in some bounty bar on Tejas. "Y-yes, thank you," he said, taking the glass from her hand and bringing it to his lips. "Quite a colorful cast you've got here, Commander Chernova." Morgan said, downing half his glass in a single gulp, letting the alcohol sting his throat.
"All they need is someone to rally behind, a leader." Chernova said, looking across the room at the cowboy, like a treasure from the past. "What do you say, Mr. Blackwell, do you think you could bring these misfits together?"
"Well, I'd need a ship-"
Chernova cut him off, "I can cover it."
Morgan started again, "and supplies, we'd need ammo and weapons and-"
"Mr. Blackwell, I'm not cheap. You need it, I'll get it." Chernova confided, setting her glass back down on the table. "So, will you take the job, or do i need to find some other gunslinger in a funny hat?"
"I... I'll do it." Morgan said, standing from his seat.
"Well, shine your spurs, cowboy..." Chernova extended a hand.
"Welcome to Nine-Tailed Fox."
Welcome to the Redemption, a sci-fi, anime-inspired, narrative driven roleplay, that is constantly growing larger as more and more people add their own characters and stories to this universe. Please check out the Lore page for more information and examples of some of the player created races in Redemption. Reminder, the lore of this game is not set in stone, and is subject to change.
Redemption takes place in the Aurelius galaxy, a refuge from the devastated Milky Way that Humanity called home. Aurelius is home to thousands of diverse races, and many groups of interest with their own agenda that may change the galaxy as we know it. This story focuses on the losers, misfits, outsiders. They might not all be heroes, but their story is one that will live on in the stars.
This is
Redemption.
- Inspiration -
- The Rise Universe
- Ender's Game by Orson Scott Card
- Firefly by Joss Wheldon
- Dark Matter
- Outlaw Star
- Blue Gender
- Cowboy Bebop
- Blade Runner
- Star Wars
- Mobile Suit Gundam/variants
- Riddick films, more specifically Dark Fury, available on YouTube. Highly Recommended!
- Lost Planet: Extreme Condition/Lost Planet 2
- Destiny
- Halo: Combat Evolved/Halo 2 (the rest are crap)
- Marathon/Durendal/Infinity
- Borderlands
- Deus Ex Series
- Planetarian: The Reverie of A Little Planet
- Danger Days