R E D E M P T I O N
Hub Authority Capital Ship, The Arbiter
The Hub, 85 AC (After Contact)
"Do you really think this will work, Commander?"
Chernova
rapped her against the table, and stared down the man that she called
Mr. President
. McConnelly had always been a prick. A charismatic prick, but still a prick. He had the kind of face that could get up on television and promise for a brighter future, a future where no one would have to fear terrorists and xenophobes, and you could believe him. But if you saw the bastard in front of you, you'd slap him right across his smug face.
Regardless, he was the President of The Hub, which meant she had to show him some respect when it came to the public matters. War was bad publicity, Chernova knew this better than anyone.
"I believe it's the best option at this point. Especially after we've gained confirmation of the presence of a Nova-Mass Bomb." Chernova said in a solid tone. She knew the severity of this situation, filling in the President shouldn't have been her priority, she wanted action.
McConnelly sighed and leaned in his rolling chair. "This is some serious stuff, Andromeda. If the media, or God forid, the Council hears about this? I'll be out of office... you'll be out! And who will they throw in? Probably Gyver, that furry sonavabitch..." He swore, and got up from his chair to fetch himself a drink from across the room. "You need to deal with this shit, Chernova. Because if you don't, it's all our necks on the line."
"So do I have your support?" Chernova straigtened her gaze on the man.
"Do what you have to... but don't let it get back on me if it hits the fan, Andromeda." The President drained his glass of alchohol, and greedily filled another.
"Don't worry, Dick. I'll handle it."
- - -
Planet Volker, Unincorporated Aurelius Space
"Elector Deatholme? The men are waiting."
Konstantin Rutger Deatholme pulled his black leather gloves over his scarred hands, shivering as they linked into the full bodysuit that encapsulated his horrible body. "One moment please,
Hans
." Deatholme said, his voice was surprisingly smooth for such a monster as he was. He reached for the bottle of pills that sat next to the reflective mask that stared at him with empty eyes. Deatholme counted out six pills, six perfect pills, and swallowed them in an effortless, waterless gulp. Almost instantaneously the burning sensation left his exposed skin, and he sighed in relief. Finally, he grabbed his mask in a light, considerate grip, and slipped the helm over his head, locking it into position with the lower segment already on his neck.
"Which uniform will you be wearing to address your troops today, Elector?" Hans called, opening the case that stood next to the immersion tank that Deatholme had stepped out of moments prior. "I was thinking that the cape over the colonel's uniform might look a tad stereotypical, and come off as slightly hack-ish, what were your thoughts?"
Deatholme secured his breathing apparatus and walked over to where Hans was now looking through his uniforms. "My leather uniform, it achieves the menacing, new-world leader look that I wish to achieve," he said, the voice that was once smooth and calming now sounded metallic, and inorganic through the mask that protected his head from the environment of Volker. Deatholme dressed quickly, and strapped his sidearm and blade to his belt as he made his way to the door and out the hall.
"Sir, I hate to bring this up, but some of the men are getting restless. Many of them are simply mercenaries, and may not truly hold your ideals... some considered a
coup...
" Hans said as the pair made their way towards the balcony.
"Did you make an example of them?" Deatholme questioned, pulling his gloves tighter around his hands as they prepared to unto the balcony.
"I thought I'd let you do the honours, sir." Hans opened the door, and stepped aside as his Elector walked out over his army.
Deatholme looked out at the crowd. More than a thousand Humans, standing in perfect symmetry. He walked out to the balcony's edge, and immedietly the men began to cheer.
"My fellow homo sapiens... I have built this Brotherhood of Adam with my two hands, my
human
hands. I took my vision of Humanity's future and I set it into action..."
The cheering only grew louder.
"...and yet, some among you have chosen to abandon your Human brethren... some of you have chosen to break the creed of man and live with the lesser races, those animals. I understand I cannot save everyone... some are not ready to accept the future. But when you came here, you swore an oath, not only to me, but to your brother, your sister, your forefathers... and when you break that oath, you must understand that let your betrayal go unpunished..."
The doors behind Deatholme blew open as Hans dragged the bloodied form of a man through the doorway, bound at the hands. Deatholme turned to the man, and felt a shiver of delight as the man stiffened and began to beg for his life. Deatholme approached the man, gliding across the snow beneath his feet. The man, once a soldier under Deatholme's name, now stood at his mercy. Just as he began to cry, Deatholme placed a cold leather hand on his shoulder, and leaned in close.
"Forgive me, brother."
In a series of quick precise jabs, the man's nerve froze and he began to bleed from twenty different holes. His face was a mess of pain and horror as he stared into his own dying eyes through the reflection in Deatholme's mask. As he fell back into the snow, he had only the blackness of the Volker sky, and the devil to stare up at.
"Now, my brothers. In who do you believe in? In who do you place your trust, your lives, your future!?"
"DEATHOLME!"
Beneath that horrible mask, the monster smiled.
- - -
I can still remember that day... the day I let my platoon die...

They called me Ghost back then... it wasn't just a callsign, it was a statement... I had no soul, no conscience...

My men believed that... they watched my decisions in battle and thought that I was heartless... they believed that I saw them as disposable...they believed I didn't love them...

Maybe that was true... maybe I am just a Ghost...
\
\\
\\\
Planet Baikonur
UHC Weapons Research Station
80 AC
"This is the official report of Colonel Cameron J. Armstrong of the United Human Colonial Navy, dated 04/24/80.

Baikonur had been a research and development site for the Colonial Military for sometime. As The Hub seemed hellbent on limiting our borders as much as possible. It only seemed right that the Colonies establish a forward listening post on our outward border in case of an attack from outside. As time went on, and no attack came, my superiors decided to use the desolate rock for developing a prototype defense system, codenamed; Achilles. Not many people knew about it, I myself had little knowledge of it until the planet had already become under siege.

My capital ship, The Impending Dawn, was already in the system when the attackers arrived. They made no attempt to bargain, they simply began to deploy ground troops to storm the facility. They utilized purely energy-based weaponry unlike any kind I had seen before. I would like to note, their battle cluster seemed to be made of scout vessels, not warships. It is my belief that the aliens were scouting new space, and did not expect to find life on this arm of the galaxy. I will present my findings to the Office of Colonial Defense once we return to Terra.

Upon my arrival on the planet, the Office of Colonial Defense gave me direct orders to destroy Project Achilles and erase all relevant data. At this point, the alien force had complete ground and air control, making the planned evacuation of on-site personnel difficult, and anyone planning on destroying the Achilles prototype would be committing suicide. With no volunteers, I assigned an engineer battalion known as the Hellfire Corps to do the job, led by a Sergeant, callsign; Ghost. The Hellfire Corps had a track record of demolition jobs, making them prime candidates for the assignment. Hellfire Corps successfully made it to Hanger 210 with minimal casualties. However they soon ran into complications...
~~~
"Where is our goddamn evac?!"
Plasma shells flew past the Corporal as he hid behind the flipped wreckage of his transport. They had been promised extraction, even if they hadn't been sucessful, they knew that the Colonel would never leave them behind. Still, the situation had gone from bad to worse, and Corporal Petrovic feared that the circumstances had changed.
"I joined the Corps to defend the colonies, not get my ass shot up on some rock by aliens..." a soldier whined, loosening his grip around the rifle in his hands. "This whole op has gone to hell, man. First we lose the jeep, and now Sarge is missing? I thought Ghost was lucky?"
"No, they just said he couldn't die... that he wasn't human anymore." Petrovic slumped onto the rocky ground, and looked at the ammunition indicator on his rifle. Half a clip. He swore under his breath and peaked over the wheels of the jeep towards the aliens that stood only a hundred yards away. "Guess they were right... we're done for." he lamented.
A chuckle came from his left, a marksman that laid prone to make himself smaller. "No... we were dead from the start." He said solemnly, before pulling on the trigger of his rifle and unleashing a high-velocity round at the head of one of the aliens. "Back when we got paired up with Ghost, I knew we were going to end up here."
"The hell are you talking about, Chen?" The other soldier questioned.
"On his last mission, our fearless leader, Sergeant Ghost? He let his entire platoon get slaughtered, and he didn't say a word, didn't even flinch. He has no emotion, no soul." Chen answered, ending his sentence with a slam of the bolt of his rifle.
Petrovic slammed the back of his helmet against the jeep. "I guess that's why he's called Ghost, because he isn't even human!-"
A huge ball of green plasma sent the truck flying, and the three soldiers went straight for the ground. In the distance, they saw alien lifeforms moving towards them, weapons raised.
Petrovic raised his head, and peaked across the battlefield, just as a ball of energy came flying from one of the angular tanks. "He really did leave us... this is it..." He closed his eyes, and prepared for the warm embrace of plasma.
Suddenly, a ball of fire came barreling out of the Hanger, and landed in front of the scattered men. The plasma came down agaisnt the fireball, but dispersed agaisnt it's surface. The soldiers took a moment to wait as the dust cloud dispersed before they finally could see.
"It's the Prototype..."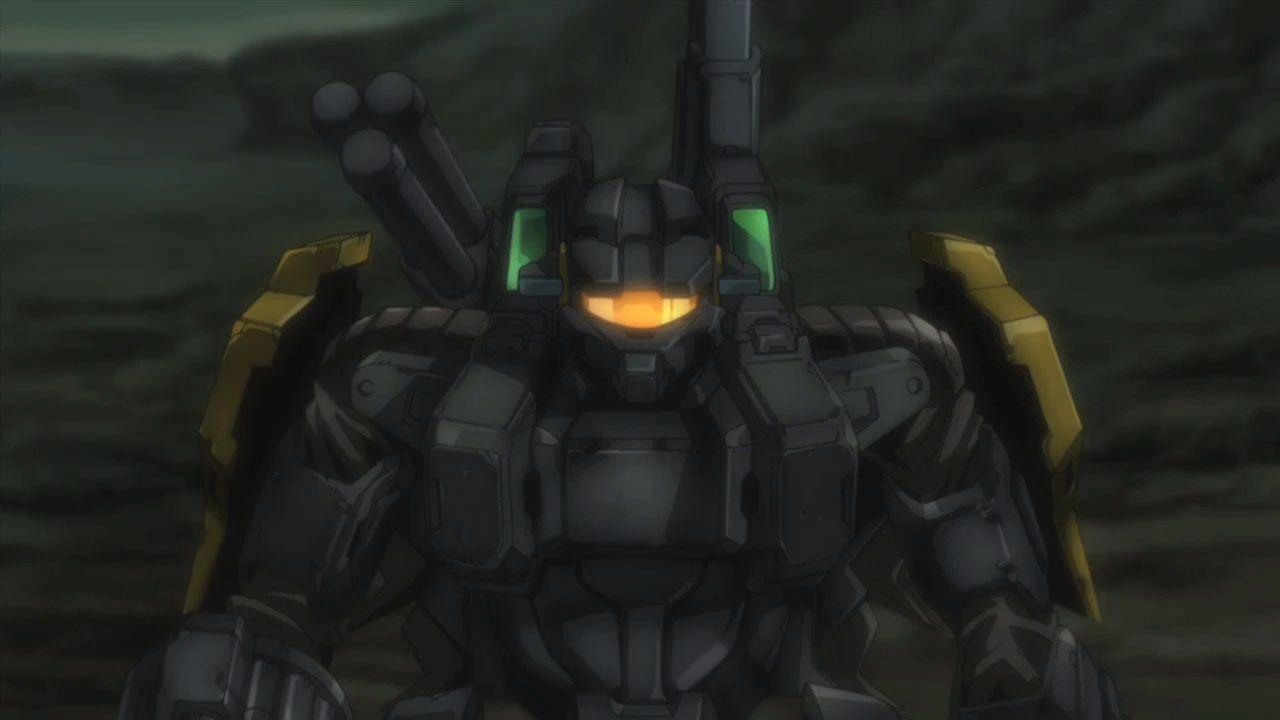 "...but who's piloting it?" Petrovic slowly got to his knees and stared up at the fifteen-foot tall tool of war.
"Ghost to Hellfire Corps, fall back to the evac site immediately, ignore the enemy."
The suit spoke, still facing the enemy forces.
Petrovic stood slack-jawed, and turned to face the other soldiers. "Alright, you heard his orders, let's get out of here."
Chen cut in," he's not supposed to be using that suit! We were supposed to destroy it!"
"That's an order."
Ghost said, glancing over his shoulder in the hulking suit of armor.
The thrusters on the back of the suit flared, and the suit flew forwards, dodging plasma fire. Ghost spun the minigun on his arm and fired a volley of rounds towards the alien attackers, blowing them apart into chunks of multi-colored flesh. As he landed in the middle of the battle, he heard the voice of Colonel Armstrong come through his helmet.
"Can you hear me, Sergeant?! What do you think you're doing? Your orders are to destroy the suit and all related data. You are disobeying direct orders!"
"No sir, I am following my orders."
"Explain yourself."
"I have destroyed all the data, and I'm using the time left on this suit to evacuate my soldiers. I am not leaving until all of my people are safely-"
"That is not the plan! I am ordering you to stand down and-"
"There is no other choice. The mission cannot be jeopardized..."

"...and I am still responsible for these soldiers' lives..."
"Wait, Sergeant! Ghost? Listen to me... Ghost!
~~~
I lost my entire squad... every one of my soldiers... and that's when I truly became a Ghost... just a shadow of a Human being...
~~~
Plasma and bullets flew everywhere. The Prototype suit used every weapon at it's disposal to distract the enemies while the soldiers retreated. All the while, Ghost was watching his timer.
"In order to activate the self-destruction of the nuclear core, the pilot must speak a voice command... they designed it for reason, didn't they?"
"Sergeant?.."
"Just get my men off this rock... Ghost, over and out."
Ghost powered the thrusters and flew into the air as the troops began to swarm him. The Achilles suit was powerful, but it wasn't invincible. The heat of the plasma had begun to overload the shield generator, and melt through the armor. Ghost switched to the missile pods and fired towards troops that crowded around him. Shrapnel and fire exploded around him, enveloping him in flame as he set back down upon the ground.
Just as he cleared the area of targets, a enormous ball of blue energy crashed against him, breaking through the energy shield and blasting the suit into the ground. As the cloud dissipated, he could finally see the stars, and the tails of the transport ships as they broke the atmosphere.
~~~
I had made up my mind that night... the night I let my platoon die...

I looked up at the stars and something died inside me... a conscience is just something that gets in the way...

That's all it is, an obstacle, something we all need to overcome...

I can't atone for failing to protect them...

~~~
\\
\\\
\\\\
COUNTDOWN COMPLETE: VOICE AUTHORIZATION REQUIRED

SPEAK THE VOICE COMMAND EXACTLY AS DISPLAYED:

"I AM HUMAN"
~~~
"Sergeant, I know you're not really a Ghost... I know that deep inside you is a human being... a human being with a pure heart and soul. They say you don't care, and that it's your lack of caring that makes you good. But I know that you are the best because you care the most out of anyone in this army..."

Her name was Amy... she was born on Christmas, on Terra... I hadn't ever seen anyone prouder to wear army green... I think she loved me, in that way that only a woman can love... but I knew, I knew I could never love her back...

"...it's your love for your soldiers that keeps you going... but you never show it. Why can't you just show it? Why can't you just admit to yourself that you are a human being?"

...
~~~
"V-voice command authorization... callsign Ghost..."

"I. Am. Human."
DETONATION AUTHORIZED, CORE WILL REACH CRITICAL STATE IN 3.. 2..
And now maybe... just maybe I can be human again...
~~~
Transmission from The Impending Dawn: Col. Armstrong, C


"Research Containment Protocols enforced, all weapons, prototypes, and research data has been destroyed...

The soldier, Sergeant "Ghost", whom I previously had ordered to court marshal is... I redact that order... that soldier is officially missing in action, lost during heavy combat on Baikonur. He demonstrated honorable conduct not only as a soldier, but also as a human being. His sacrifice should be noted, and posthumously awarded the Colonial Cross.

We're heading for rendezvous with the UHC Memories of Peace... over and out.
- - -
Hub Authority Capital Ship, The Arbiter
The Hub, 85 AC (After Contact)
Jax
"So, Captain Blackwell, are you ready to go over the candidates?"
"Don't call me Captain, please."
Morgan opened the folder.
"Let's start with this one, Jax."
Chernova straightened.
"Okay, Jax is one of the Awoken... ancient synthetics built-"
"I read the file, I want to know what the black ink was covering."
Blackwell said, looking over at her from the file.
"Oh, well. He is immune to most psychic or mind control, he can regenerate, understand almost all languages, he is a master of martial arts, and he has something of a criminal record."
"Any chance we can get that fixed?"
Chernova laughed.
"Who do I look like? The Minister of Justice?"
"Oh, I guess not?-"
"I am, Morgan... I am the Minister of... let's just move on..."
~~~
Chellis
"A Silwin? Hmm... she's real pretty."
"Yeah, I thought that too, unless you realize that they're a proto-hive mind... wait a few millennia and they'll all look the same."
"But Chellis, why is she on the list?"
"She's an empath, and one hell of a medic. We found her working in a triage on some war-torn Frontier world, imagine that? That pretty empath is a long way from home..."
"Yeah, I know the feeling..."
~~~
Lilith
"Lilith Treble, born on... Melbourne? The prison planet?"
"Yeah... hell of a mechanic and pilot... plus her cybernetics give her an advantage over most organics..."
"Growing up in a prison? That's no life for a kid..."
Chernova sipped her drink, and spoke halfway.
"Sge wussint a prisnur."
"Pardon?"
Chernova finished her drink with a heavy gulp and wiped her lips.
"Sorry... she wasn't a prisoner, her Uncle was stationed there as a mechanic."
"Still, growing up around so much violence... I couldn't have been good for the kid."
"You'd know all about that, wouldn't you?
"Watch it, Andromeda."
~~~
Haed
"Time Vampire? Who is this girl?"
Morgan looked over the file on Haed, none of it made sense. He had never heard of Time Siphons. For a moment, it seemed like the failed plot to a comic book.
"That is some crazy stuff... we've had quite a few of these Time-Benders locked away in a special containment facility, since they can bend time and space, it makes them a bit hard to control when they get anarchistic... and she's almost three-hundred, Morgan."
"Spooky stuff... can she freeze bullets?"
"Yes. Yes she can, and it's quite cool."
~~~
Karana
"No... no no no, I don't want to babysit rich kids."
Morgan crossed his arms and placed Shiori's file back on the table.
"Come on, Morgan. She's a star diplomat-"
"And apparently a secretary? Chernova, I'm not letting the heiress to some megacorporation onto my ship. We're hunting for terrorists, not the best sale on designer clothes."
"She's a mathematic genius, and her bank account is practically bottomless."
"Can she fight?"
"Maybe?"
"Fine... but she has to pay for gas..."
~~~
Vivoriana
"A super soldier? This is exactly what I wanted! Someone who can really take the fight to these Humanity Front bastards."
"A pretty obvious candidate... though she has something of a rebellious streak, she is a valuable asset to Nine-Tailed Fox."
"...and that armor... such curves..."
"Can't argue that, cowboy..."
~~~
Farris
"A card shark? Heh... see what I?-"
"Well he's actually not a shark-"
"Don't ruin it for me."
- - -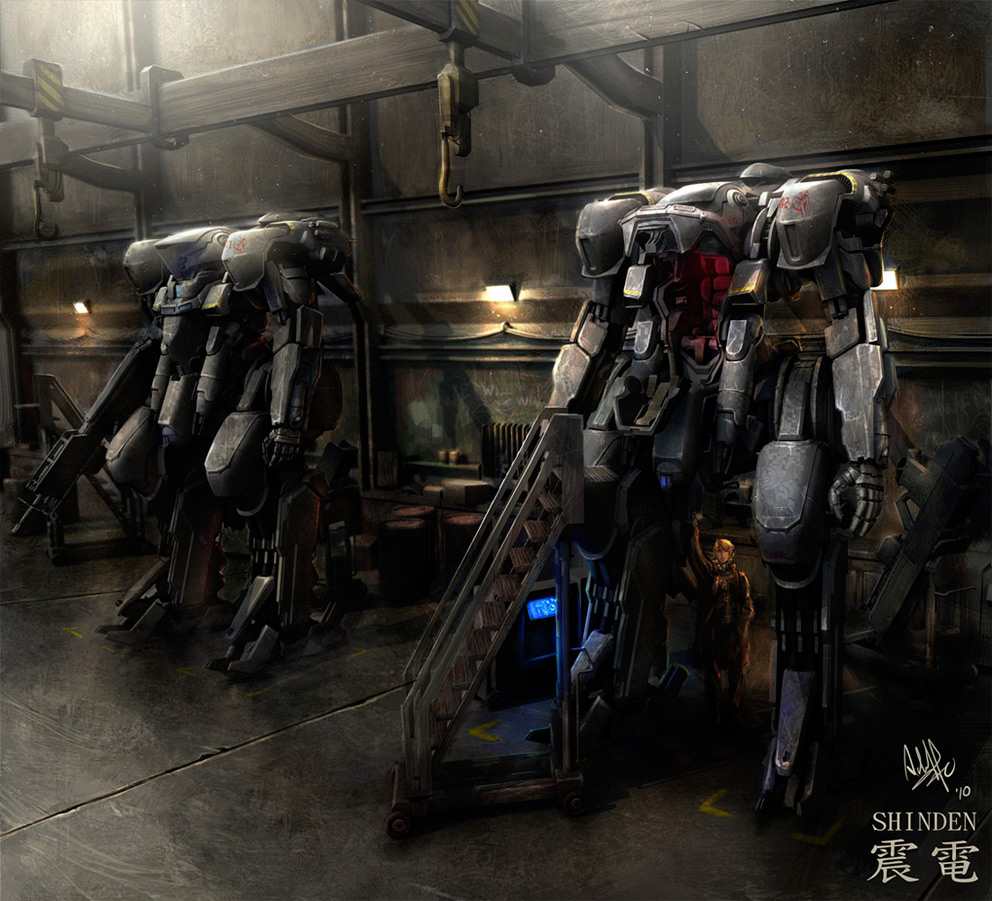 AMP-Vehicle Hanger, The Arbiter
Morgan was already waiting in the hanger by the time the mercenaries and
assorted specialists
arrived. He had taken time to look good for the men and women that he would lead into battle. While he wasn't wearing his hat, he did wear cowboy boots and his maroon leather duster, with the sleeves rolled to his elbows, and of course, strapped to his thighs were his dual pistols, marked with spades on the grip. He was certain of his façade.
The mercenaries all arrived at once, brought into the ship in a shuttle, together to insure their would be no need to repeat themselves when it came to dispersing information. Once they had all gathered, Morgan spoke up.
"Hello, my name is Morgan Blackwell... I've been hired just like all of you. Only my job is to keep us all on the right track. For any of you who might have a grudge on the Hub, just know I'm only here for the money, same as you. So with that out of the way, are their any questions before we get called by the Commander?"
- - -
Welcome to Redemption Chapter 1! I have big plans for this series, and I'm looking forward to writing this along with all of you. Before we begin, a few notes:
- None of you were forced to take this job, even those of you who may have been incarcerated. It was your choice.
- The Hub aren't just the bad guys because they are a superpower. There are many factions in Aurelius, and many walk the path of Neutral.
- Don't use OOC knowledge to influence how the game plays out or how your character reacts, that ruins the purpose of roleplaying.
- Any and all questions should be posed to the OOC or my PM box.
Player List:
Annasiel as
Chellis, "Empathic Enigma"
Myrn as
Lilith Treble, "Aussie with Attitude"
Quirbles as
Jax, "The Tin Man"
LunaHawk, as
Haed, "The Time Thief"
Illirica as
Karana Shiori, "Silver-Tongue"
Azra as
Vivoriana Lionfang, "Bounty Hunter: Prime"
SomeGuy as
Farris Whepet "Abe Sapien with an Ace up his sleeve"