Character Sheet
★ Name ☆
Duis Speculus
★ Age ☆
17
★ Role ☆
Gemini, The Unlonely (The Not Aloner doesn't really sound right to me >.<)
★Gender ☆
Male
★ Grade ☆
Grade 3
★ Roommate ☆
★ Ability ☆
Duis, as the Unlonely, formerly had the ability to
split himself into clones as many times as he likes
. However, in his new reincarnation, Duis has a few limitations when he splits himself into clones.
Firstly, unless he's splitting into just two, the clones will not be able to carry Duis' will independently, and therefore, they need commands. Therefore, he has no way to control his 2nd clone onwards without direct communication. However, he could take on the consciousness of his 1st. Not only there's a limit to how many clones he could make. The clones, with the exception of the 1st clone again, have limited parameters. As in, they contain only half of the previous clone's strength, intellect, handiness, etc. For example, the first clone will have 100% of the original's parameters and is the only perfect clone. The next ones will have 50%, 25%, 12.5%, 6.25%... Since going beyond 10% creates unsightly clones, which are too stupid for Duis, there could only be 4 usable clones of himself.          
★ Personality ☆
Like his ancestor, he places a high value in intelligence and logical thinking. This might give him a slight superiority complex or make him sound cocky as he speaks eloquently. This also makes him seem stern and serious. Unfortunately, this may mean that he looks down upon illogical or unintelligent people.
However, he's raised well. He's good natured and rarely means any malicious intent. Needless to say, he thought of the "quarrel" in the Zodiacs' past to be completely foolish. He wishes to make amends. The only question is whether the other zodiacs would like to as well.
Duis is quite organized, and he strives to find the best way to optimize his time. Even when performing more recreational activities.
He's not exactly a social person though. He used to be so distracted by his own dreams that he didn't really make friends when he was young. However, he does enjoy conversing with others that share his peculiar wavelength. It's nice to have someone that's not yourself to talk to and play chess with.
★ Bio ☆
The dreams started for as long as Duis could remember.
They weren't just your regular dreams either, these were recurring dreams that would always feature the same people. People that were ignited in raging flames. Screams filled the air, not only screams of fear and suffering, but laughter. Maniacal laughter.
The young boy often woke up to realize that he was the one laughing. At first, he couldn't help but question why. But as the years pass by, the dreams become more and more intense. To the point that the dreams felt very much like reality. It was like he was in a second life, apparently, his dream-self was named Ceasar. A man who acts alone, yet he doesn't. Dubbed "He Who is Not Alone." It was easy to see why. Ceasar was a man who can create as many copies of himself as he wished, and they would act in perfect coordination, not a word between him and his clones were ever shared, they just knew what to do. Like how they travelled the world, gathering knowledge, gathering intelligence, eyes and ears were everywhere. Ceasar had an endless thirst for knowledge.
However, Ceasar wasn't the only one with powers. There were others.. 11 others, each belonging to a zodiac. Ceasar and Duis both share Gemini.
The dream became more and more immersive as he grew up, more vivid, more colourful, and more bloody.
Ceasar, in a blur of rage, burned Scorpio and her followers alive. In vengeance of Aries. It seemed that he couldn't forgive himself for preventing her death. It was the next morning when he came to his senses. To see miles of burnt trees, destroyed housing, nothing was left but despair. Unable to bear the weight that what he did was no better than what Scorpio did. Ceasar took his own life.
The dreams always ended there, before cycling back. At one point, Duis could control his dreaming to the point that he would only see the imaginative dream of his when he wanted to. It wasn't until Duis was 14 when he realized his dreams weren't simply dreamed of his imagination.
It was a night before his final exams. Despite being a smart kid, he didn't pay attention to much in class. This reflected in his grades. His parents, knowing that their son wasn't the type to study, forced him to stay in his room and study. Which, he tried to do. But he found organic chemistry so boring that he went to sleep on his desk.
The next morning, he woke up on his bed. While someone else unfamiliar was working on his desk. "AH!" He let out a short scream in shock. The boy on the desk, turned around, wide-eyed. They held eye contact for a while. Duis was speechless as he looked at an exact replica of himself.
Ceasar...
He thought. Before slowly raising his hand, pointing his palm at his doppelganger. "Return." He said, with slight fear in his voice. "Good luck with organic chem, I got it covered for you." The doppelganger said before vanishing into specks of silver, specks that got pulled into Duis' outstretch palm. Suddenly, Duis had felt as if he learnt so much more.
Needless to say, Duis did much better than he thought he would on the exam. It seemed like the answers flow from his hand into the paper. It was astounding.
From then on. Duis had a little fun with his new-found cloning ability, which was significantly weaker than Ceasar's. But he kept at it. Eventually, He was able to make one of his clones act out his will. This led to very productive study sessions. He came to have much more free time than before, which led him to pursue a hobby, cooking, and then chess. Both of which were quite enjoyable to do with his clone. Which he kept hidden from the rest of the world.
Then, one day. A letter popped up in the mailbox. It was addressed to Duis, and it had a wax seal in the shape of a star. Duis suddenly had an interest in what the other present-day Zodiacs were like.
★ Talents And Skills ☆
            ☆ Multitasking
            ☆ Cooking
            ☆ Analysing, both people and data
            ☆ Chess
★ Appearance ☆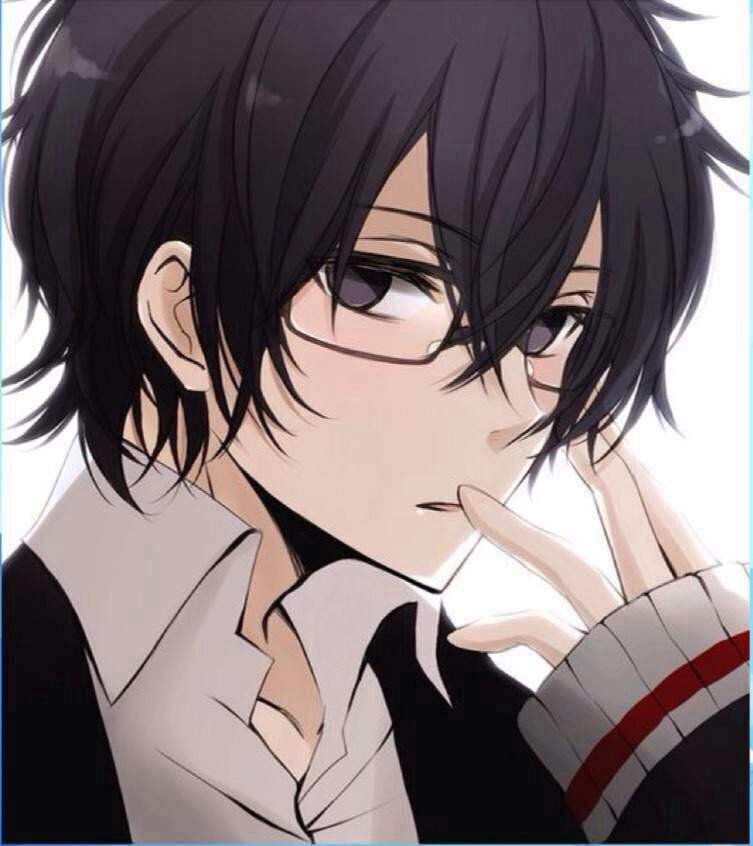 ☆ Height: 172 cm (5'7")
☆ Weight: 59 kg (130 lbs)
☆ Eye and Hair Colour: Black, nothing else to it.
☆ Build: Slim, not a lot of muscle
☆ Clothing: Duis uses square-rimmed glasses to correct his slight long-sightedness, and wears them more often than not. When not in uniform, he wears outfits that are neat and organized. Like dress shirts folded to his elbows.