CS
Name: Hai Oshikaki
Title : The rogue
Age: 25
Personality:
Hai is usually whimsical and mischievous. He loves to play games with people especially when that person has peeked his interest, but he is also fickle. What is worth everything in tue world to him one day could be considered trash the next to Hai, though he tries to stay true to his good friends since his master died. It would be unlike Hai to do anything without thinking and he would never attack an enemy stronger then him without a plan. Secretly Hai views his inability to fight stronger foes head on as a weakness and he hates it when anyone says he's afraid.
Skills/Profession :
-Hammer blade technique- a technique created by Hai and his Sensei utilizing a special wedge shaped blade to attack then striking the blade with a hammer to break a person's sword. The technique also involves using the hammer to attack but not often.
-Black smithing- Hai was once a wandering blacksmith before he met his Sensei, Kisame Ukatoka. He started out crafting only katana but eventually moved onto hammers and his own original sword, the wedge blade "Bunkatsudaio".
-Trading- Hai was a wandering blacksmith who traded with many travellers and other merchants.
-Gambling- Hai loves to gamble. His favorite games involve cards.
Primary Weapon: 
-The wedge blade "Bunkatsudaio"-
The wedge blade is an 2 and a half foot katana that is thicker in the back makings it noticeable heavier then most swords of it's length. It also is flat at the tip making piercing attacks impossible. It has a black and white laced handle with a small triangle guard in the shade shape as the blade. Even it's sheath is noticeable triangular.
Secondary Weapon:
-A heavy wood mallet-
A wooden mallet with a large steel ingot in one side of the head. The side with the steel ingot in it is charred around the edges, hinting that he smiths with that side and strikes his sword with the softer wooden side.
Bio:
Hai had become a blacksmiths apprentice at age 16 but he had always dreamed of becoming a traveller. He was smart though, even as a boy Hai knew he would need a way to make money on the road and preferred not to put his life on the line if he didn't have to. He left his small village at age 18 and began traveling. His goods sold well at first, but it seemed like the more Hai traveled the more expensive metals seemed to be, and so he settled in a mining village for a short time so he could get paid to gather the metals he needed. In only 2 months the boy had grown large muscles from days of mining.
Hai had began to craft what he though would be his first masterpiece after those 2 months, using the metal he had collected. He smithed a durable yet light blade that could be swung extremely fast then continued traveling in the hopes of finding some who would use his blade. It was during this journey that Hai met Kisama Ukatoka. He was a wandering swordsman, but he wore fancy clothes. Hai approached the man and asked that he test his sword for him to entice the man, but the swordsman simple looked at the sword and could tell it was no good. The blade lacked the proper weight to do sufficient damage.
"Tell me, what metal did you use to forge this blade?" The swordsman asked.
"The blade is made completely of iron sir." Hai half lied, he had used a secret combination of metals taught to him as an apprentice.
"Lies, iron is too heavy to be crafted into a blade this thin and sharp without snapping. You may keep your secrets to yourself if you wish." He replied before beginning to walk away but Hai was now interested in the man and decided to follow him. Hai watched the swordsman fight and from it better understood how a sword works. The 2 formed a bond and soon enough they even began thinking up new sword ideas and techniques together.
After 4 months of travel the swordsman told Hai that he was actually a noble samurai and he would be returning home soon and then offered Hai a chance to come with him as his personal blacksmith. Hai accepted and the 2 lived in their own palace along with Kisame's other servants. Life was simple for a time, until one day Kisame was forced to take his own life for attacking soldiers who were hurting a poor girl. Kisame didn't kill the soldiers but was forced to take his own life and yet it was considered justice by the Yakima palace. It was then that Hai's entire outlook on life became jaded. He decided that if this was justice he wanted nothing to do with it. He painted the kanji for evil on the back of his kimono and left the palace and swore to kill the noble who made his friend kill himself.
Appearance :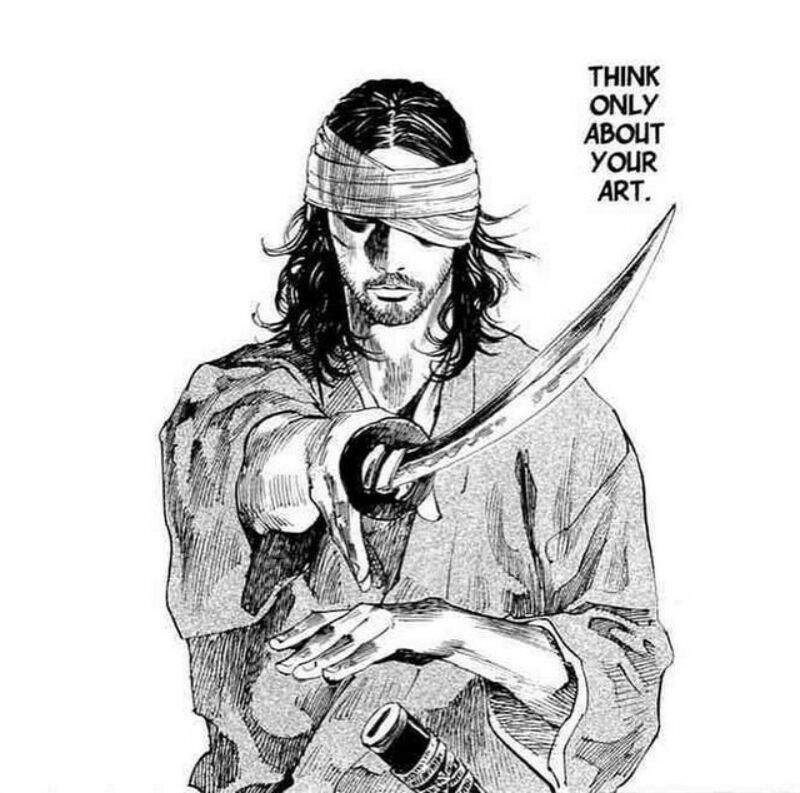 One eye is bandaged due to a more recent battle with soldiers and he has the kanji for evil painted onto the back of his kimono.
Extra Details : (Scars , Habits , Likes/Dislikes)