W.I.P
×Name×
Johanna (Goes by Skull Crusher)
×Age×
Seems 20
×Gender×
Female
×Alignment×
Neutral
×Power×
Cybernetic Enhancement~
Johanna possesses cybernetic enhancements that provide superhuman strength, endurance and durability. Johanna can also interface with computers. Built into her body armor were an infrared eye, computer generator, sound amplifier, and special programming adapters that allowed her to interface with other body extensions. Her robot parts are covered up with something that feels and looks like skin. She seems like a normal human, but she's not. The skin on her robot parts matches her normal skin tone, but it way more stretchy.
Shape-Change~
Johanna can reshape parts of her body into various weapons and technological equipment. Her arsenal included a finger laser attachment, telescopic eyepiece, sonic disruptor, electric shockers, grappling hooks, sword, and a gun.
Superhuman Strength~
Johanna can lift/press in excess of one to two tons. If she pushes herself, he can even exceed to almost 3 tons, but not without causing severe stress to her cybernetic components.
Material Assimilation~
Johanna can consciously integrate new forms of machines and cybernetics into her own bionic physiology in order to further enhance herself.
Superhuman Sensory Array~
Due cybernetic enhancements Johanna's five senses were increased.
×Weakness×
- If someone is smart enough, they can hack into Johanna's system and do many things. They can communicate with her, shut her down, make her lose her important files, or even reprogram her. Things like that takes a lot of time though. It takes a week or less to actually hack into her, less if you're really good with computers.
- Johanna is really really close to Grayson and would do just about anything for him. He helped bring out her human side and if anyone took or hurt him, they better run.
- Johanna can't push herself too hard without her system overheating and things malfunctioning. She shuts down when her system overheats because it needs a break and shuts down to cool off.
- Fire and extra heat can great harm Johanna. It can make her fake skin melt off and her system will overheat.
×Role×
Partners with Grayson until they pick a side
×Personality×
Loading…
█▒▒▒▒▒▒▒▒▒
×Bio×
Johanna use to be a normal girl, living in a rather nice house with her loving family. She forgotten what year that was since its been so long ago. She just remembers being happy back then and normal. She was a very smart girl, passing all her classes and doing what she was told. She even liked to help people during her spear time. Johanna lived a normal life up until her teenage years, that's when she was taken.
Loading…
█▒▒▒▒▒▒▒▒▒
×Appearance×
Johanna is a kind of short girl, only standing at 5'. She has pale skin and white hair that goes down to her hips.
Her body is kind built like a hourglass, with many tatoos. She even has two matching tattoos with Grayson. Johanna has kind of long nails, which are normally painted.
×Clothing×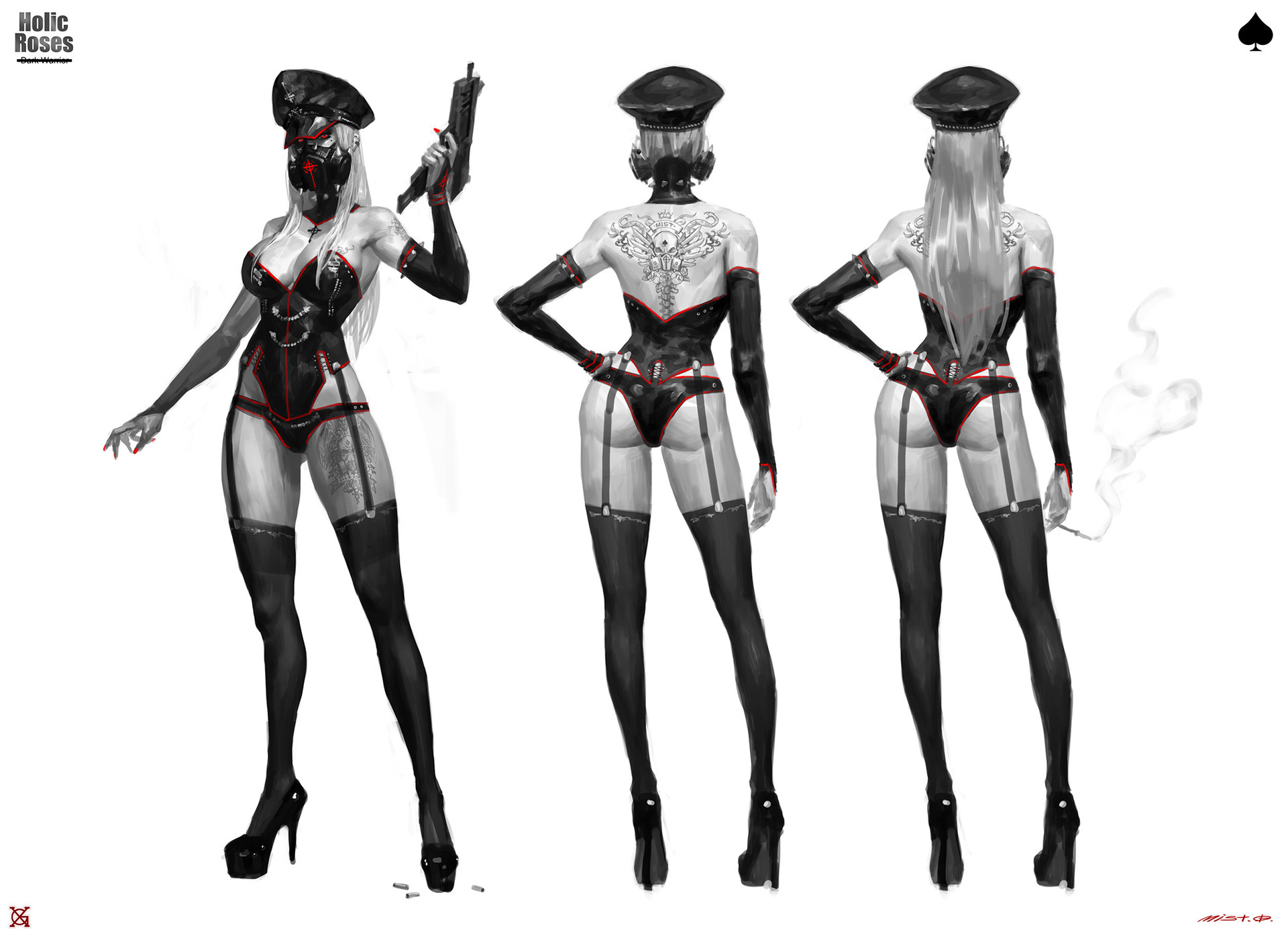 Unlike like some people, Johanna doesn't wear much clothes or armor because she feels like she doesn't need to. She wears a hat that kind of looks like on a general would wear. Its a black hat with a red rim and sliver spikes on it. In the middle of the hat is an XG. She also has many piercings in her ears. Johanna almost always has her gas mask on and rarely ever takes it off, even when she smokes. She was built to be feared and the gas mask brings her whole look together so she just keeps it on. Johanna wears a rather long choker around her neck with what seems to be some type of cross at the end of it. Johanna's whole outfit is made of leather, besides the socks she's wearing. She also wears rather large heels to make herself taller. She also wears rings like Grayson.
×Extra×