Name: Suland Kinperr
Age: 27
Gender: Male
Species: Zabrak
Rank: Neither the Zeison Sha nor the Wardens of the Sky use any form of ranking systems. Therefore while he has the skills of a high leveled Jedi Knight or a low leveled Jedi Master he has no title to represent this fact.
Lightsaber: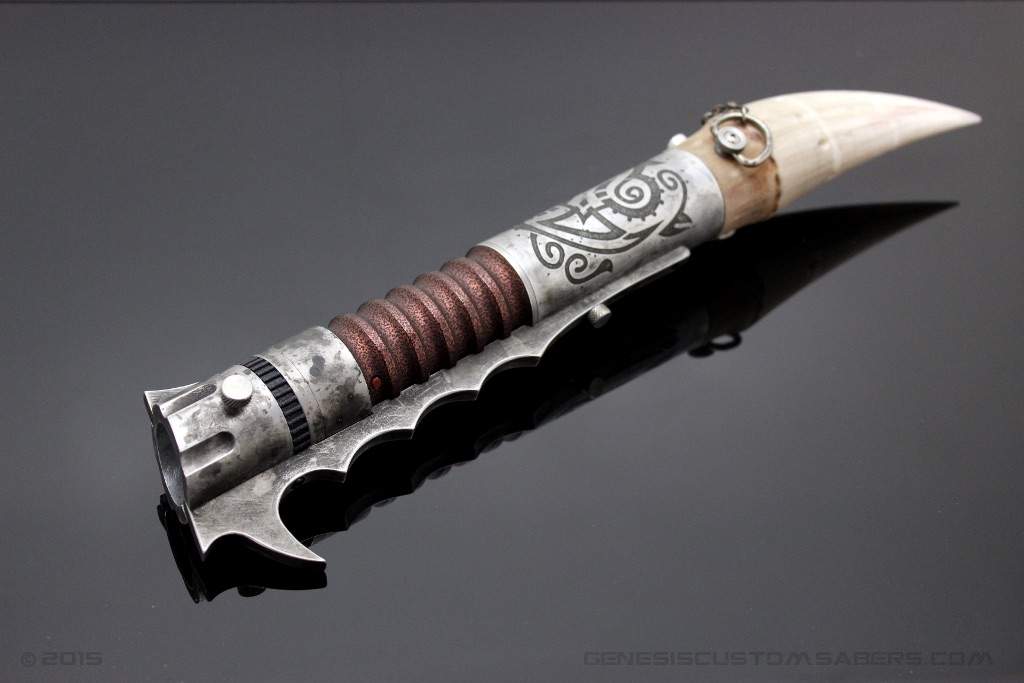 This is the lightsaber that Suland made when being trained in the use of the lightsaber. It is a dual-phase lightsaber, he tends to keep his blade short like those of a shoto lightsaber, and it's blades color is veridian with a black core. The blade of the lightsaber also curves slightly like the one in the picture of his armor.
This is his sisters lightsaber which was similar to his own lightsaber in many ways. It was a dual-phase lightsaber in which she often kept its blade short like her brother and its blade also slightly curved like his as well. However instead of a strait handle like Sulands hers was curved. Her blade was also cyan with a white core which was another difference from how her brothers lightsaber looked. He carries the weapon in her memory but only uses it when he has no other options left to him.
Bio: Suland himself was unique in many ways but one of the things that was unique about his collective family was that unlike other Zabrak they chose not to live on their native homeworld of Iridonia. Instead they lived on Yanibar which was an unusual place to find Zabrak. However, this was not without reason. Sulands family had for many generations been known for having force sensitive members born into it. On the one hand it was a matter of pride for the family, but on the other hand it often meant that every new birth was tinged with dread.
The Witches Of Dathomir, which had long ago been wiped out, had managed to make a comeback about one hundred years back. The Witches once again were a thriving order, yet just like the order of the past they chose to mostly stay upon their planet and keep to themselves. Unfortunately, they would travel to Iridonia from time to time in order to claim children of promise to help their numbers grow. As such many of the daughters of the Kinperr clan had been taken to become Nightsisters, and regrettably for the boys many of them had been taken to be Nightbrothers as well.
When the family had still lived on Iridoria the only chance for the children who were born with the gift of the force had was to be taken by Jedi to be trained before they were found by the Witches. But even this was not a desired outcome because it once again meant that the child would be lost to the family. This caused the patriarch of the family fifty years back to look for a way to save his family from the situation that they found themselves in. He found his families salvation when he learned of Yanibar and the Zeison Sha who were trained there.
The family had a good life once they relocated to the planet. The children could learn to control their abilities by studying with the Zeison Sha, who did not believe in separating the children from their families, and as such could still enjoy a normal life with their loved ones. This meant that over the next few generations the family was able to live in relative peace. Finaly Suland was born followed shortly after by his younger sister. The pair were both blessed with the force and as such were trained in the ways of the Zeison Sha. It seemed like things for the family just couldn't go wrong. Which is usually right when everything collapses.
Suland and his sister eventually finished their training and chose to go out in order to help the galaxy. They were hunting down a group of pirates who had been attacking starships in a nearby system whenever their own ship was attacked as well. They were boarded by a detachment of Nightsisters who had been drawn to them by the strength of Sulands sisters power in the force. They intended to make her one of them one way or the other. The pair of siblings were able to defend themselves against the Withces fairly well but not without them both being injured. Sulands injuries weren't life threatening but his sister had been wounded severely and didn't have long to live. She died in Sulands hands with him unable to save her.
After that he decided that something had to be done about the Witches. He returned his sister to the home of his family on Yanibar so she could be laid to rest properly and then he informed the order that he would be leaving the Zeison Sha in order to pursue his own goals to help the galaxy. The elders understood his reasons and blessed his travels while also saying that he wpuld always have a place amongst them should he desire to return to their ranks. He then left his home and to this day has never had the opportunity to go back.
He took work as security on many intergalactic shuttle flights involving everything from moving civilians to cargo. He did this to earn the credits he would need to gather the weapons and equipment he would need to destroy the Witches. He managed to single handedly bring down many pirate factions, bandit groups, and mercenary teams who tried to attack ships that he was on. Eventually he drew the attention of one of the Wardens of the Shy who offered for him to join their ranks. Up to this point he had believed that the Wardens were just a rumor like nearly everyone else in the galaxy so he was shocked to learn the truth. However, after getting past his initial shock he realized that this would not disrupt his mission while at the same it would allow him to learn new skills from the Warden. Seeing no downside to the Wardens offer he gladly joined their ranks. He now continues to guard the spacelanes as a Warden himself as he continues to get closer to realising his goal.
Appearance:
This is how he looks but he doesn't have the lightsaber in the picture.
This is his personal armor that he usually wears. It's base is that of the Zeison Sha Warrior Armor that he gained while with the order. He has modified it with retrofitted Mandalorian armor that he has gathered from Mandalorians who have fallen to his blades over the years while he was traveling the spacelanes. This makes his armor stronger than other Zeison Sha armors in a number of ways.
Extra:
He carries a pair of Zeison Sha Discblades like the one pictured above.
This is his K-16 Bryar Heavy Blaster that he carries when wearing his specialized armor. Although he refuses to use any projectiles while onboard a ship as it goes against the training he received whilst studying with the Warden who brough him into their order.
(I hope that this character is more to your liking Argo.)