Sr. Member
Posts: 825
Joined: Mon Jan 23, 2017 6:45 pm
Gender: Male
Location: At The Brink of Destruction and The Edge of Annihilation.
Contact:
Here it is. Post away.
Stand up for what you believe in, even if it means standing alone. - Sophie Scholl
---
Casual Mod
Posts: 5362
Joined: Sun Jan 22, 2017 10:59 pm
Gender: Female
Contact:
I̞͉̣̦̟̱'̩͎̗͚͡͝d̯̲̪̜̤̖̥͟ ́҉̳̝́d̡̖͇͕̺̝́͘o͈̟̯̩̳ ̟̫̹͙͞á͔̤ǹ̶̗͕͈y̶̳̦t̛͕̫̞̟͘h̗̱͙͉̲͘͝i҉͍̘̮̗͙̙n̰̘̟g̷̶̬̻ ͇̙̻̘̦̜ͅf̧͇̞͕͉̤̝̜o̻̗͓̻̠̪͜͡ŗ̸͔͈̺̹̝̱ͅ ̬̤͍̹̬̰͞y̸̢̩̯̹̹o̸̟̻̫̭͖u҉̰͔̪͡
---
Casual Mod
Posts: 5362
Joined: Sun Jan 22, 2017 10:59 pm
Gender: Female
Contact:
I̞͉̣̦̟̱'̩͎̗͚͡͝d̯̲̪̜̤̖̥͟ ́҉̳̝́d̡̖͇͕̺̝́͘o͈̟̯̩̳ ̟̫̹͙͞á͔̤ǹ̶̗͕͈y̶̳̦t̛͕̫̞̟͘h̗̱͙͉̲͘͝i҉͍̘̮̗͙̙n̰̘̟g̷̶̬̻ ͇̙̻̘̦̜ͅf̧͇̞͕͉̤̝̜o̻̗͓̻̠̪͜͡ŗ̸͔͈̺̹̝̱ͅ ̬̤͍̹̬̰͞y̸̢̩̯̹̹o̸̟̻̫̭͖u҉̰͔̪͡
---
Casual Mod
Posts: 5362
Joined: Sun Jan 22, 2017 10:59 pm
Gender: Female
Contact:
I̞͉̣̦̟̱'̩͎̗͚͡͝d̯̲̪̜̤̖̥͟ ́҉̳̝́d̡̖͇͕̺̝́͘o͈̟̯̩̳ ̟̫̹͙͞á͔̤ǹ̶̗͕͈y̶̳̦t̛͕̫̞̟͘h̗̱͙͉̲͘͝i҉͍̘̮̗͙̙n̰̘̟g̷̶̬̻ ͇̙̻̘̦̜ͅf̧͇̞͕͉̤̝̜o̻̗͓̻̠̪͜͡ŗ̸͔͈̺̹̝̱ͅ ̬̤͍̹̬̰͞y̸̢̩̯̹̹o̸̟̻̫̭͖u҉̰͔̪͡
---
Casual Mod
Posts: 5362
Joined: Sun Jan 22, 2017 10:59 pm
Gender: Female
Contact:
I̞͉̣̦̟̱'̩͎̗͚͡͝d̯̲̪̜̤̖̥͟ ́҉̳̝́d̡̖͇͕̺̝́͘o͈̟̯̩̳ ̟̫̹͙͞á͔̤ǹ̶̗͕͈y̶̳̦t̛͕̫̞̟͘h̗̱͙͉̲͘͝i҉͍̘̮̗͙̙n̰̘̟g̷̶̬̻ ͇̙̻̘̦̜ͅf̧͇̞͕͉̤̝̜o̻̗͓̻̠̪͜͡ŗ̸͔͈̺̹̝̱ͅ ̬̤͍̹̬̰͞y̸̢̩̯̹̹o̸̟̻̫̭͖u҉̰͔̪͡
---
Sr. Member
Posts: 825
Joined: Mon Jan 23, 2017 6:45 pm
Gender: Male
Location: At The Brink of Destruction and The Edge of Annihilation.
Contact:
Stand up for what you believe in, even if it means standing alone. - Sophie Scholl
---
Sr. Member
Posts: 825
Joined: Mon Jan 23, 2017 6:45 pm
Gender: Male
Location: At The Brink of Destruction and The Edge of Annihilation.
Contact:
Name: Andrew Jamison (Armament; Test Subject Z-071)
Age: 30
Sex: Male
Personality: In many ways he would almost come across as robotic in nature. He looks at things from a logical standpoint at almost all times. Calculating every decision, weighing pros and cons, and working from the point that makes the most intellectual sense. However this is all because of the fact of how he was groomed from childhood. That has began to change because of his most recent mission. Since then, while he maintains his logical thinking patterns, he has also been awakened to emotions and what it means to take them into account. This has made him uncontrollable by his old handlers. Which has turned him into the unpredictable and dangerous weapon he has now become to those who do injustice as well as to those who used to control him.
Subclass: Cyborg
Faction: Resistance
Weapons: Andrew will only use one gun. That is the specialized weapon that was made for him by The Factory. It is a hightech rifle that can be used as a sniper rifle or as a shotgun. He must switch out to certain specialized ammunition in order for the gun to act as each weapon, and he also has to press a button which transforms his barrel from a long thin one or a shorter thick one depending on if he wants to use his rifle or shotgun respectively. Other than this he relies on his own abilities and cybernetic arm or on his twin tantos that he carries at all times.
Abilities:
(Trained)
Weapons Mastery - Andrew has been trained in the use of all weapons since childhood. He is most proficient in the use of small blades, firearms, and archery, but can still pick up any weapon and use it with ease.
Martial Capabilities - As with his training with weapons Andrew has been trained in all forms of hand to hand combat, and martial arts. His main form of combat is a variation Krav Maga that he mixed with the freedom of movement from Parkour which has made his style very unpredictable to most of his enemies.
Advanced Tactics - Andrew has been trained in high levels of military tactics and espionage. Making him a force to be reckoned with on the battlefield.
(Natural)
Mental Focus - Andrews mind at many times has been compared to that of a supper computer. He is able to quickly take in information and decided on the best course of action in a matter of mere seconds allowing him to change his tactics in a moment's notice if he needs to. He also has an incredibly high natural IQ.
Unchecked Memory - Andrew has a photographic memory, as well as the use of photographic muscle memory.
(Modifications)
Cybernetic - Andrews left arm has multiple tools that he can employ. Including armor plates that lift up to form a shield able to block most projectiles, a laser that comes out from the top of his hand that can be used to cut through most things, a techno spike that comes from his palm which can be used to hack into any type of security or compute system. On top of these his hand is able to be launched off his arm to be used as a type of grappling tool which can also be used as a limited weapon. His arm is resistant to most elemental forms of damage, and it gives him a massive amount of strength, enough for him to stop an oncoming pickup truck without injuring himself. He also has a microchip connected to his brain which allows him to access all data on the public and private information servers. It also allows his eyes to show all data through a personal HUD which only he can see.
Genetic Engineering - Andrew was tested on as a child and enhanced with experimental technologies that increased certain physical qualities that he was born with. These enhancements included giving him the ability to lift the weight of a motorcycle with his right arm alone, the ability to run at the top speeds of a cheetah for a prolonged period of time, enhanced agility, enhanced durability making his skin durability and bone density similar to that of hardened steel, allowing him to heal twice as fast as even the healthiest humans could, and enhanced his eyesight to be able to see as far and as clearly as most birds of prey.
Weaknesses:
Many think that Andrew has no weakness because of the training and enhancements he has been given. Unfortunately for him this is not true.
Medical Obstacles - Andrews skin durability makes it hard to give him surgery if he finds himself in need of it. His bones density makes it hard to properly set his bones as well as making it hard to re-brake them if they heal improperly. Also his internal organs, his brain, eyes, and other soft tissue gained no durability enhancements. This means that even if he looks fine he could have serious internal damage. The experiments that he was put through to enhance him also made him anemic which is made worse by the fact that he has type O-negative blood.
Mental Limitations - While Andrew does have the mental acuity of a genius he is still limited in his knowledge of the world. He was trained in very little that is considered useful in the every day world because he was never meant to be a part of it. This means that while he may be able to pass as most anyone if he is not payed close attention to, it also means that an in depth conversation with him will reveal his ignorance of the world at large.
Emotional Immaturity - Andrew is new to the feelings of emotions since his handlers saw them as useless and a distraction when they were training him to be their weapon. Because of this fact he is unsure how to handle the newly discovered feelings. When combining this with his ignorance of the world at large he can be seen as being almost like a child in some ways. Especially in his curiosity of the world and his lack of understanding of how some things work and the dangers they could possibly present. In his new life this would have caused him a lot of problems, however, he was lucky enough to find someone who could help him to understand the world that he is now a part of.
Skills Pride - Andrew is very proud of his skills and because of this he doesn't like to use weapons that he feels do the work for him. As such he won't use most firearms, explosives, compound bows, or other weapons that he feels takes away from the necessity of his capabilities.
Bio: Andrew was breed in a lab controlled by The Factory. A paramilitary faction loyal to no one but the highest bidder. He was one of many children grown to be the ultimate killing machines. The children were given no human interaction except with their handlers who oversaw them. The handlers that oversaw these childrens raising only saw them as weapons and investments. Not as a human beings. Because of this none of them would developed any real emotions. This was true of all but that would one day change for Andrew at the very least.
He was sent on his first mission with one of his handlers at the age of ten. This is also when he killed his first target. If he had not done so then he would've been considered a flawed weapon and would've been killed himself. Not that the boy knew this though. He then began to go on a number of co-op missions with his different handlers until the age of thirteen. At this age he took his first solo mission which was to wipe out a whole military compound. He succeeded with flying colors. Thus began his life that would gain him the reputation of being the most deadly assassin ever created.
A year ago though that finally changed. He had been sent on a mission to take out a political leader of a small country. This would've been just another Tuesday for him if there hadn't been one unexpected development. The political leader was a woman on vacation with her family which included her husband and four children. One of these children was a small toddler of only two years old. While he had killed many leaders before and even many families one thing had been overlooked by his trainers. That was the fact that he had never killed someone under the age of sixteen, and the oldest child this woman had was just barely twelve.
Whenever he arrived at the vacation home he made his way unseen to the living room where the family was currently playing together. When he walked in he pulled his gun and prepared to fire but instead found himself suddenly frozen. The small boy toddler was laying on the ground in front of him and whenever he had pointed his gun at the child it showed no fear of him since it didn't understand the danger it was in. He watched as the boy seemed to ignore his gun and reach up to him as if the child wished to be held by him. During this the rest of the family had froze in fear at his entry into the room.
Andrew lowered his gun and looked at the child with confusion. The confusion was because of many things. Their was the fact that he had never seen a human so little before, the fact that he had never seen anyone not show him fear before, and the fact that no one had ever showed happiness to him. He lowered his gun and while watching this exchange the woman seemed to notice what was happening in his mind and said "Oh! You poor man." People knew about children who had been raised to be killers but no one knew how to stop the groups that did it. This woman was one of the world leaders fighting to bring an end to it and so she was able to realize what he was.
Andrew was then first exposed to his own emotions. He seemed to slowly understand what he had been doing all his life and he steeped back from the child and looked at the rest of the family in fear while a tear rolled down his left eye. He wiped at the tear with his robotic hand and looked at the water on his hand in confusion. He then wiped at his eye again, but this time with his right hand that was still organic, when he realized the water was coming from his eye he was even more confused. However at that point he then looked at the woman who was his target and said "More will come. Prepare yourselves. Protect yourselves." He then quickly turned and ran from the house. He could hear the woman calling for him to wait and saying that they could help him but he kept running. He saw himself as a monster and didn't want to be around other humans.
He spent the next year on his own. Constantly on the run. He had not returned to the Factory knowing that the price of failure was retirement. Which he now understood meant death. He still understands very little of the world and has allowed himself to be around very few humans worried that he might bring danger to those who are around him even of they don't realize what he really is. Much less if they tried to actually help him. He only has one person who has gotten close to him and it is through her that he has begun to learn about the world, the people in it, and his ever growing emotions as well.
Appearance: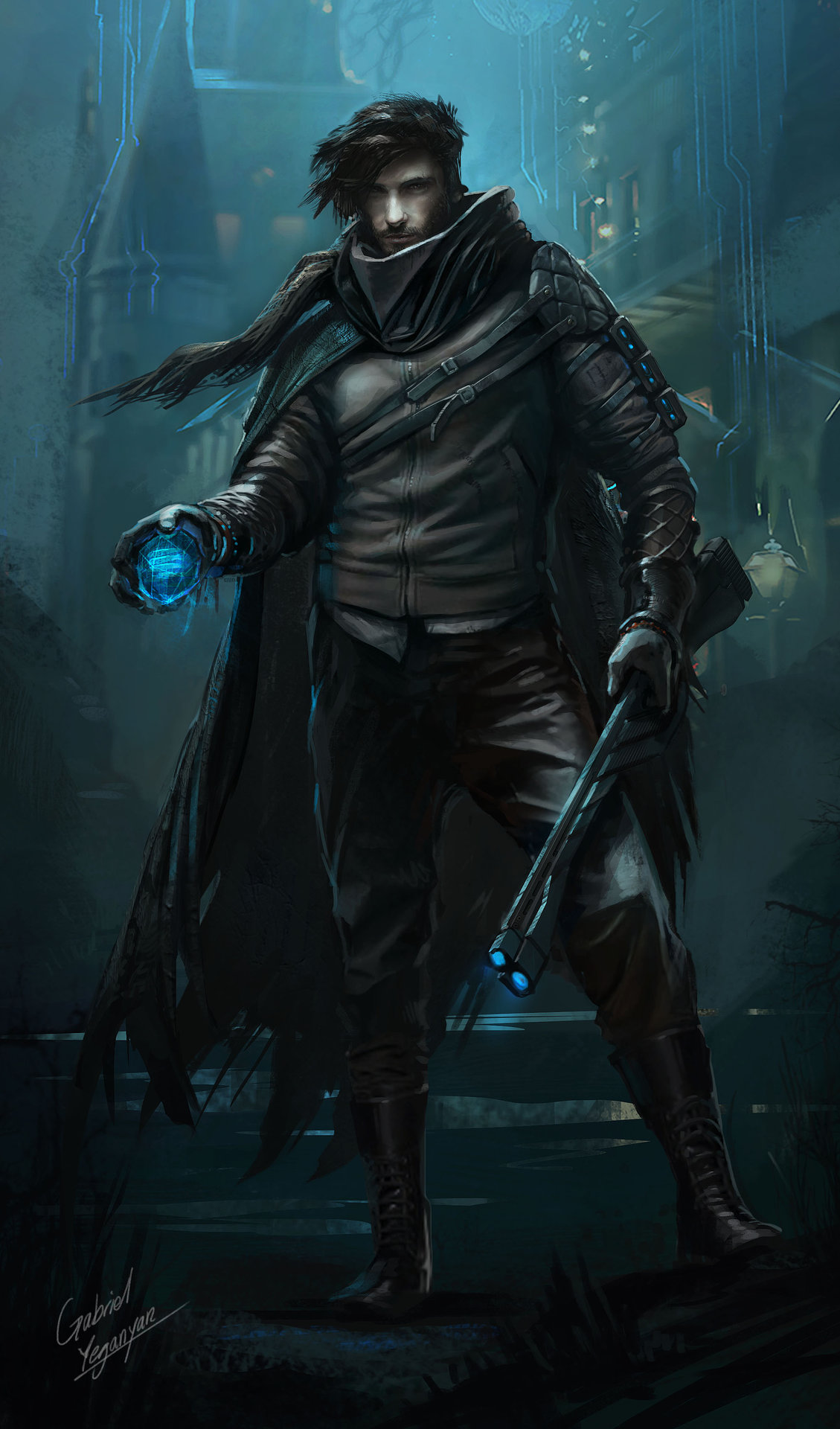 Andrew with his specialized gun.
Robotic left arm.
Two of this tanto.
Stand up for what you believe in, even if it means standing alone. - Sophie Scholl
---
Users browsing this forum: No registered users and 1 guest