Name: N̵̡̹̤̟̩͕̲̙̓̑̄̅̍̐̄̕͝o̷̢͙̟͚̰̬̜͊̈́̽͆̆̑̈́̔̈͘͜͠ṙ̶͚͇͖̣͎̹̿̅̔͑̊͛̊͠ͅn̸̨̧̧͕̩̗̝̞̱̝̯͙̯̥̓͛̃̃̎̏͛͑̑̑̋̑͝ ̴̻͇̿̾̔̀̃́̒͛̎B̶̦̞̻̪̠̹̰̜̬̦̺̹̾̃̈́ǫ̷͎̲̙̇̏̅ͅr̸̢͚̮̯̓̾͊̽̓́͗͗̋e̸̤̪̜̔̉͝a̷̡̙̻͇͕͓̪͔̣̲̹͔̯̔͌̈͒̀̍̌̋̃͜͝s̶̠̹̱͎̖̪̉ (Currently, he can't remember)
Nickname: "Marquis of Madness", Marq (Spawned from the Marquis thing)
Age: 25
Gender: Male
Sexual Orientation: Straight(?) [He's kinda crazy, and no one's gotten close enough to find out]
Race: Human
Previous Occupation: Torture/Sparring Dummy
Inventory: His Kusarigama, hidden knives x 5, throwing knives x 10, A Ninjatō (short bladed sword mounted on his lower back, parallel to the ground), a shortbow, quiver of arrows for shortbow (has a latch so he can close it), 2 rope darts, pack with provisions & a waterskin, herbs for poisons, and bottles of poison.
Skills: Cooking, Stealth, Trap-making (EXTREMELY amateur), Archery (with a shortbow), Knife-throwing, Poison making (proficient), Killing,
Making People Uncomfortable
, Mercilessly Killing Bandits, Climbing, Ambushes, Assassinations, Eating with His mask on.
Personality: Irrational. Years of torture, physical abuse, and forced drug intake had broken his mind. Over the years, he has gained back some sanity, but his thought process, habits, and personality are still erratic and irrational. He is also stuck on the path of revenge and hunting down the surviving bandits that once abused Him.
Fears: Functioning relationships, Torture (inflicted on him), ladybugs, losing what little sanity He had recovered, other irrational fears
Backstory: N̵̡̹̤̟̩͕̲̙̓̑̄̅̍̐̄̕͝o̷̢͙̟͚̰̬̜͊̈́̽͆̆̑̈́̔̈͘͜͠ṙ̶͚͇͖̣͎̹̿̅̔͑̊͛̊͠ͅn̸̨̧̧͕̩̗̝̞̱̝̯͙̯̥̓͛̃̃̎̏͛͑̑̑̋̑͝ was born and raised in a small village that used to reside in a valley. The village
used
to be in a valley, due to a
raid conducted by bandits. When He was 5, the village was attacked, plundered, and burned to the ground. As the raiders left, they took "trophies" to practice their fighting, torture, and poisons on. As the years went on, everyone who had survived the raid and were captured had died off one by one, until only He was left. At that point, He had endured 10 years of pain and suffering. But He also had 10 years of "combat" training (Bandits fight dirty). He had the strength to escape, he just needed the opportunity.
A few days later, the bandits split up for a large heist, with most of them leaving the base. That night, He faked stomach pains, causing the "warden" to enter his cage, and was promptly killed. Having escaped captivity, He crept through the base, killing the remaining bandits as they slept (most of them woke up, causing Him to panic and repeatedly stab them until they died). After the bandits were killed, he raided the armory and took all manner of killing weapons, and the mask he wears to this day.
As He left the base, He burned it to the ground. He went to the nearest town and registered as an adventurer. After that, He spent the next 10 years hunting down the remaining members of that group. As those years passed, He trained himself in the art of the Assassin (He got a training manual from the guild), eventually mastering stealth and his remaining weapons. He also learned how to make traps, but they're kinda crappy.
Appearance: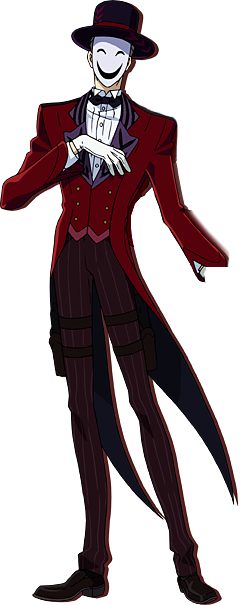 Second picture included to depict how
FABULOUS
he can look when calm and (somewhat) sane
Extra: The original group of bandits were 30 strong. Today only 6 remain, and he is determined to find them.
Quotes from people who had worked with Him (One was detained in order to interview):
"I fear no man, but that... thing... It scares me."
- Anonymous Warrior
"No, I... I ain't, I ain't talking about that freak. All right?" *Interviewed tries to untie himself* "He's not here, is he?" *Continues struggling* "How do I get these f***ing things off?!"
- Anonymous Ranger
"One shudders to imagine what inhuman thoughts lie behind that mask... What dreams of chronic and sustained cruelty?"
- Anonymous Thief
"What do you know about the Masked Assassin known as Marq"
The response came from the only doctor who he lets treat him. She said:
His mind is broken... Everytime he comes in to have wounds treated, he'll leave. But the next time he comes in, the wounds are worse than when he left. Just last week I had to detain him again in order for his wounds to heal. It seems he's hellbent on doing something, to the point that he'll risk his own life..."
- Anonymous Guild Doctor, 5 years ago